"The secret to happiness is freedom, and the secret to freedom is courage"
-Thucydides
Today, April 17, 2021 marked the 60th Anniversary of the Bay of Pigs invasion, honoring the courage and sacrifice of the men who fought valiantly in their fight for Cuba's freedom from the communist regime under Fidel Castro. It is considered the biggest Cold War blunder in military intelligence history. In hindsight many lessons were learned.
It is in large part this failed invasion that so many Cubans were forced to leave their home country and start a new life in Miami. The influx of thousands of Cubans creating a Little Havana. The first part was Castro's gradual introduction of Marxism-Leninism in 1959.
I had cleared my calendar as I had every April 17, to catch up with the survivors. The fact is I make a living in telling their stories and in sharing their traditions that are now a part of Miami culture. As a professional cultural tour guide in Little Havana, it is my duty to learn the history and remain informed. It was also an honor to interact with these living legends.
As always upon my arrival, their faces are all beaming with smiles of pride. Yes these are proud men. While they may be aging many in their 80's, they never fail to recount the battle story with such clarity and detail as if it were 60 days ago. They never forget and ensure that we never forget. One day they will not be on this earth. I often wonder will later generations remember or forget and how will it shape our future?
I am reminded of another saying:
"The more you know of your history, the more liberated you are" by Maya Angelou
Which in contrast leads one to believe why Castro gradually introduced Marxism-Leninism, a fusion of ideas of German philosopher and economic theorist Karl Marx and Vladimir Lenin, first leader of the new USSR in 1917 after the Bolshevik revolution. Castro wanted Cubans on the island to forget their history.
"Keep people from their history and they are easily controlled," Karl Marx
These are powerful quotes that guide the philosophies of nations, leaders and when residents are divided, these conflicts lead to war and /or long periods of unrest and oppression. The human spirit cannot be controlled or caged like a bird lest it dies.
POLITICIANS IN ATTENDANCE
As expected, many politicians were present showing unity with their Cuban constituents from the local to the federal including the city mayor, county commissioners, their aides, the police chief… the list goes on. Senator Marco Rubio and Florida Governor Ron DeSantis also gave speeches in north Florida.
In referring to the Cuban exile soldiers who served, Senator Rubio stated:
"Their battleground was in Cuba, but their cause is in freedom"
Governor DeSantis:
"Members of the Brigade took a stand against oppression, took a stand against destitution, a stand against a morally bankrupt ideology, a stand for freedom."
But it was the speech in Spanish from a brigade survivor in a prayer to the Lord, that pulled the heartstrings of participants and left some teary eyed.  A blanket of emotions covered and united all democratic loving participants.
    "… Que un pueblo pueda llegar alcanzar una victoria, no victoria militar…sino una victoria moral para enseñarles al mundo que Cuba no mendiga su libertad, la conquista a fuerza del valor de dignidad.

Gracias Señor por que hoy podemos decirte presente antes de este altar de la patria, recordando a los que se no han adelatando y manteniendo el compromiso de nunca de olvidarlo, ni el compromiso con Cuba en su libertad."
[English Translation]
    "Through your grace God, that a people can reach victory, not a military victory but a moral victory to show the world that Cuba will not beg for its liberty but conquer it by the sheer value of dignity. 

Thank you Lord because today before this symbolic altar of our homeland, we can remember those who went before us, and keep the promise to never forget them nor the promise to Cuba for the pursuit of liberty."
The event was thought provoking, moving and served as a powerful reminder to never forget history.
NEW FLAGS
In the past only two flags were installed behind the monument, the American flag and the Cuban flag. A sign of the hope of democracy spreading from their home in the US to their home country in Cuba. This anniversary two other flags were raised, one symbolizing the pursuit of freedom and the yellow and blue flag clearly honoring the 2506 Brigade exile soldiers.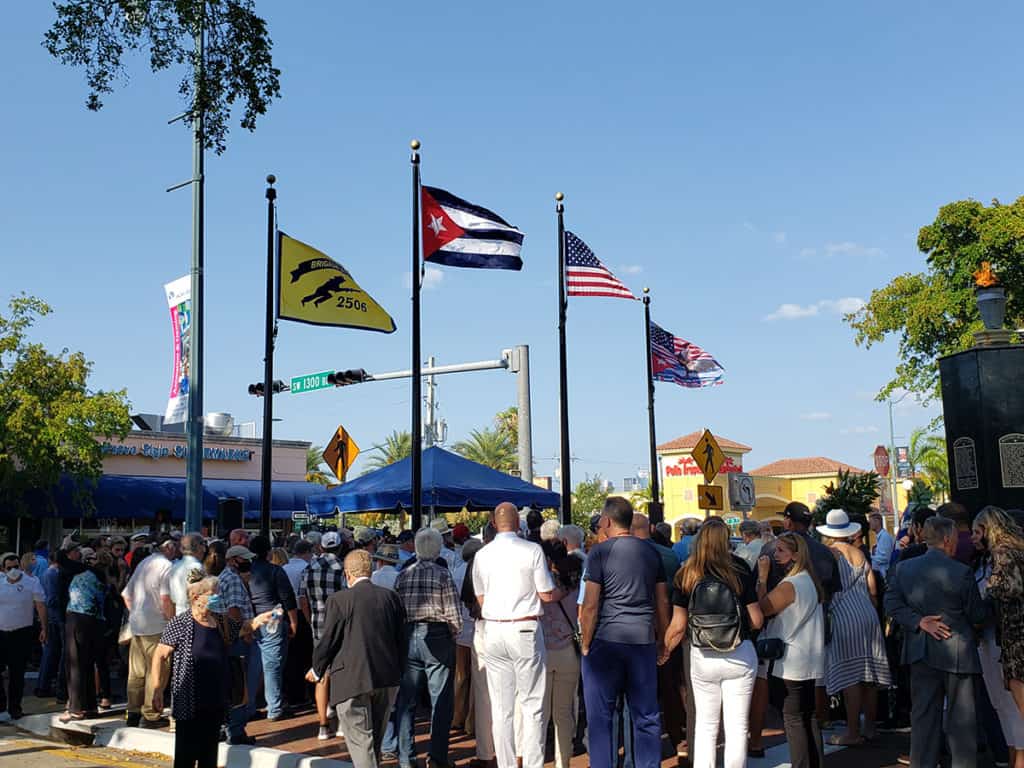 In December 29, 1962 when the 1000+ surviving Cuban exile captured soldiers were released, they arrived in Miami for a ceremony in Miami's Orange Bowl, where the brigade's flag was handed over to President Kennedy. "I can assure you that this flag will be returned to this brigade in a free Havana," the President promised. Famous last words.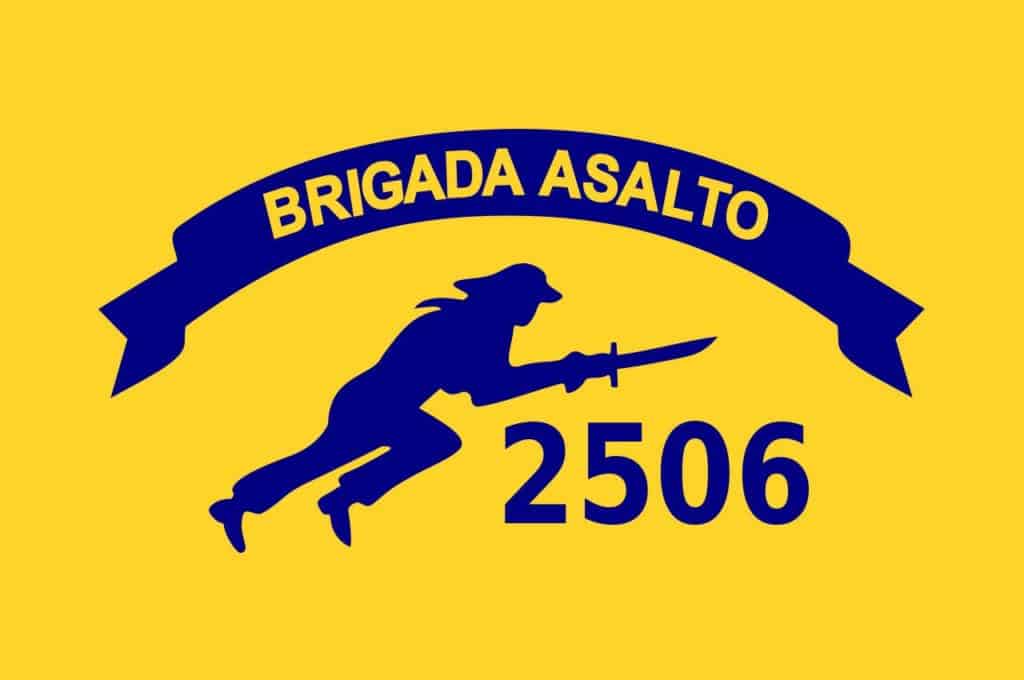 HOW YOU CAN LEARN MORE ABOUT THE BAY OF PIGS INVASION ON A VISIT TO MIAMI
At Little Havana Tours, we specialize in several areas of interest including political history where guests can meet surviving brigade soldiers and delve into events leading up to the invasion, and the later outcome impacting a people and two nations. Be sure to plan in advance to book your private customized experience.
On our daily cultural tours, after kicking off the tour with a refreshing tropical juice, we logically begin with this history to best understand and appreciate Cuban Americans in their passion and determination to survive, to forge ahead, to maintain tradition so one day they may return to a free Cuba.