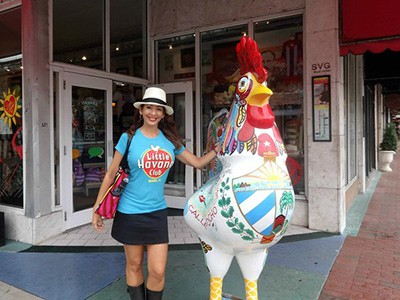 This 3 hour+ tour is the most popular as it delves deep into the history and traditions of local customs plus guests also enjoy savory food.
The tour begins at the Bay of Pigs monument and continues along Memorial boulevard for a rousing historical introduction. It then proceeds to the famed Calle Ocho and visits the oldest farmer's market to learn about a variety of popular and rare Caribbean tropical fruits; a cigar factory to watch taqueros hand roll tobacco leaves into the finest cigars; an apparel store for the origins of the Cuban national shirt; a ventanita or coffee shop for a thimble cup of Cuban coffee; a magnificent art gallery; the oldest bar in Little Havana from 1935 and the famous Domino park.
For the grand finale perfectly timed at around 12 noon as the Miami heat rises, guests can cool off and comfortably sit down in air-conditioned* family restaurant to savor a traditional Cuban meal. We also cater to vegetarians, vegan and gluten-free restrictions with advance notice.
*In winter when weather is average 75 degrees Fahrenheit (23 Celsius) and no humidity, lunch may be served in outdoor covered patio to absorb the perfect weather.
atuity for the tour guide
(Guests are welcome to purchase any beverages or other food items on their own)